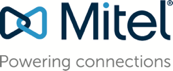 Mitel Connect Web Dialer™

ShoreTel Web Dialer™

ShoreTel Sky Web Dialer™
Privacy Policy
Mitel and legacy ShoreTel Web Dialer extensions for Chrome allow a user to dial phone numbers appearing on a web page with a single click. Once installed, the extension will process the content of every web page in the Chrome browser, trying to identify dialable phone numbers.
The extension must be configured, in the settings page, with your Mitel or ShoreTel phone number and password, which is saved locally.
Our extensions do not save, transmit, or otherwise keep any record of the web pages processed. If a user clicks on a dialable phone number link, that specific phone number is transmitted to Mitel servers which actually make the phone call. This transmission is always done with a secure and encrypted request (using https).
No other user identifiable information is saved or transmitted.
Additional Mitel corporate legal, quality, and privacy statements: